Listen:
Car Care for the Clueless – How can you save even more money on car care?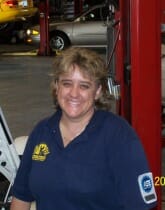 Podcast: Play in new window | Download
Have your vehicle checked out each month to make sure your wheels keep you moving. On this week's episode of "Car Care for the Clueless", host Pam Oakes discusses vehicle maintenance with fellow ASE-certified technician Jim Shewmaker. They talk about how important it is for the consumer to have their car's fluid levels and tires checked over each month – and the consequences if you don't maintain your vehicle. These tips will definitely save you money!
Our email of the week is from Phil, in Tennessee. He wants to know how to protect his vehicle's coolant system from the impending winter season. Pam discusses the different types of antifreeze and basic maintenance tips to prep your car or truck for the cold months ahead.
Peter Sudak, our gadget guru, is back with a car implement that compliments Phil's cold weather prep question. And, this gadget is very inexpensive and excellent addition for your engine and it's performance.
Our trouble service bulletins cover 2008-2010 Chrysler Town and County vans and 2010-2011 Jaguar XJ series vehicles. Chrysler has an issue with the power steering return line leaking fluid upon start up, in cold weather. They are replacing this line free of charge under their recall #19-002-11. For details, Chrysler wants individual Town and Country van owners to contact their local dealerships to fulfill this bulletin. Jaguar wants to address an issue with their center console lid release buttons. This recall is catalogued as #K088. Jaguar wants customers that have the above XJ series to contact their local dealership for warranty service.
You, too, can become car savvy by reading Pam's book, "Car Care for the Clueless (or How You Can 'Make Money' While Maintaining Your Vehicle)" available on carcarefortheclueless.com or at Pam's shop web site: pamsmotorcity.net