Listen:
Car Care for the Clueless – Why do I need spark plugs?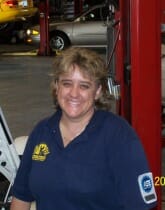 Podcast: Play in new window | Download
This week's episode of Car Care for the Clueless, host Pam Oakes and ASE-Master L1 technician Pablo Sarmiento discuss why you have spark plugs and when you need to replace the electrical component. Also, Pablo gives us a little history lesson on the 100-plus year old part. Not only informative, but entertaining, as well.
Our gadget guru Peter Sudak is back with another option available to make your drive time more pleasurable. This week he concentrates not only on the comfort and safety of the driver, but the passengers, as well. Tune in and find out how you can benefit from his latest find.
Our trouble service bulletin section concentrates on Jeep and Audi, this week. On 2009 Jeep Cherokee, there is a recall forr the steering column control module. The safety recall number is J13. Jeep is requesting owners inquiries to be directed to their local dealership. On 2009 Audi A6 models, the daytime running light system has a recall. This bulletin number is a long one: 94-11-41 2026017/1. The manufacturer request A6 owners to contact their local dealership for recall information.
A new segment "Cheap Car Tips" focuses on simple car care tips you can perform on your vehicle. This week's tip tells drivers how they can see better out of their windshield with a maximum of five minutes effort. And most of all, the equipment needed is located in your kitchen!
Our email question for the week asks about brakes. Remember: Brakes are the MOST important component on your vehicle! You can't get hurt if you can't start your care, but someone could get hurt or killed if their brakes aren't working properly.Pam gives tips on what to do if your brakes fail.
And anyone can be a savvy car care consumer by reading Pam's book "Car Care for the Clueless (or How You Can 'Make Money' While Maintaining Your Vehicle)" Just go to Pam's web site: carcarefortheclueless.com or her shop's site: pamsmotorcity.net.