Listen:
Car Care for the Clueless – When to take a "brake"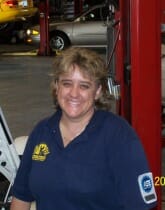 Podcast: Play in new window | Download
On this week's episode of Car Care for the Clueless, host Pam Oakes discusses the pros and cons of brake components with email call-in listener Doug from Phoenix. He was wondering why brake parts need to be replaced in pairs (one left, one right) when only one side had issues. Also, Pam gives a couple of examples on why to have an ASE-certified technician perform the repair and not DIY. This info will save you money!
Our gadget guru Peter Sudak has a winter-time part for your car and it only needs a 12V (like your cigarette lighter) source. This $20 item will not only save you time, but fuel as well.
This week's Cheap Car Review tells listeners to go into their laundry room to get the next best thing to a newly washed interior — and helps out with that winter, static cling as well! Pam explains that this common item serves two purposes for your winter travel.
Our email question of the week talks about the "check engine light" that seems to illuminate on your dash at inopportune times. Pam tells listeners how to handle this inconvenience and how to save money at the same time.
This week's Tire Tip will save you fuel — and money — if you follow the proper steps.
The trouble service bulletins of the week include Lincoln (all)/Ford regarding the fuel cap causing a check engine light. The fix rests with bulletin number 03-20-3. And, Volkswagen is having issues with their fuel door switch falling into the door panel. This European manufacture repair number is Group 70, No. 09-20 (2020357). Remember: Both of these bulletins are not a recalls, therefore the repair can be performed by your favorite ASE Blue Seal Shop or the dealership.
If you want to learn more about cars, get Pam's book "Car Care for the Clueless (or How You Can 'Make Money' While Maintaining Your Vehicle)". It is available in paperback or for your digital media. Just go to the web site carcarefortheclueless.com or Pam's shop web site pamsmotorcity.net.