Listen:
Car Care for the Clueless – Questions you need to ask your tech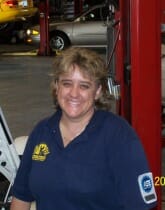 Podcast: Play in new window | Download
On this week's episode of Car Care for the Clueless, host Pam Oakes, with fellow ASE-certified technician Jim Shewmaker, discuss what every car consumer should ask their automotive shop. You don't have to be a "motor-head" to be able to have your vehicle repaired properly – the first time – by your neighborhood ASE Blue Seal shop. Pam and Jim tell listeners what questions they need to be asking service advisors and technician, alike.
The tire tip for this week concentrates on what air pressure your particular vehicle requires. Did you know that this can be different from the "maximum pressure" stamp on your ride's rubber?
Speaking about tires, our gadget guru Peter Sudak is back with a device that can help you keep your tire pressure where it belongs. At the approximate cost of one tire, this device will not only save you money, but keep you safe.
Our automotive history lesson this week spotlights a century-old item. And, to this day, we use it every time we leave the house. Take a couple of minutes and let Pam explain how this part has evolved into our everyday routine.
This week's email comes from the great white north. George from Minnesota asks Pam about keeping his car's cabin warm. She explains that there are several ways of accomplishing this feat in the dead of winter. Listen along with George so you know, too.
And remember: You too can be a savvy car care consumer. Click onto Pam's book web site (carcarefortheclueless.com) or her shop's site (pamsmotorcity.net). Look for Pam's latest book coming to a store near you: "Car Care for the Clueless: How to Buy a Used Car". The expected release date is early February, 2012. Not only is Pam an ASE-certified technician, but has a dealer's license. Learn from Pam's experiences at the car auctions and teach you to purchase the right car at the best price!