Listen:
Car Care for the Clueless – This week on Car Care for the Clueless, host Pam Oakes sits down with ASE-Master L1 technician Pablo Sarmiento to discuss how important your antifreeze level and condition is for your vehicle this winter season. They talk about the different types of antifreeze for different types of manufacturers – one type does not fit all nowadays.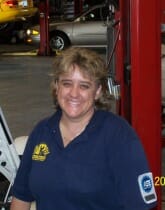 Podcast: Play in new window | Download
What cost $2 and does a world of good for your car or truck? Tune in and find out the answer in our Cheap Car Care segment. And not only is the cure cheap, it doesn't take a lot of your valuable time, either.
Our gadget guru is back with another economically priced, "must-have" for you and your passengers. Peter Sudak has an automotive item that not only works for winter but can be converted over for summer fun in months to come.
Jill from North Carolina writes to us asking about auto maintenance. She is getting conflicting answers to when she needs to change her engine oil. Pam gives her the straight skinny on when you should service your vehicle.
If you would like to know more about your vehicle, chick onto Pam's website carcarefortheclueless.com, for a copy of her book "Car Care for the Clueless (or How You Can 'Make Money' While Maintaining Your Vehicle)". Or visit her shop's site at pamsmotorcity.net. Look for Pam's latest book coming to a store near you: "Car Care for the Clueless: Successful Used Car Buying 101". The expected release date is February 2012. Not only is Pam an ASE-certified technician, but she has an auto dealer's license, too. Learn from Pam's experience at the auto auctions and teach you how to purchase the right vehicle – at the right price!