Listen:
Car Care for the Clueless – This week on Car Care for the Clueless, host Pam Oakes entertains three questions from our guest audience regarding automotive maintenance. And while we are on the subject, Pam is going to mention maintenance many times this month to get us back on track checking our fluid levels and tire pressure, condition.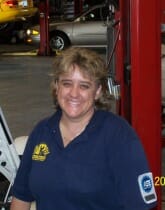 Podcast: Play in new window | Download
Also, Pam has another Cheap Car Tip to help you with little maintenance items on your vehicle, at little cost.
Our Automotive History Lesson of the week talks about how something that was used for mechanical purposes becomes a "fashion statement" along side the "fins" of the 50s.
Mike from Florida presents our email question of the week. He wants to know how to find an oil leaking from his vehicle's engine. Pam tells him how for under $10.
Peter Sudak our gadget guru is back with an item that is less than $6. Peter has found a gadget that not only will help families on vacation, but for long-haul truck drivers, as well.
If you would like to know more about your vehicle, click onto Pam's website carcarefortheclueless.com, for a copy of her book "Car Care for the Clueless (or How You Can 'Make Money' While Maintaining Your Vehicle)". Or visit her shop's site at pamsmotorcity.net. Look for Pam's latest book coming to a store near you: "Car Care for the Clueless: Successful Used Car Buying 101". The expected release date is February 2012. Not only is Pam an ASE-certified technician, but she has an auto dealer's license, too. Learn from Pam's experience at the auto auctions and teach you how to purchase the right vehicle – at the right price!