Listen:
Car Care for the Clueless – 012312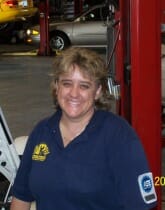 Podcast: Play in new window | Download
This week on Car Care for the Clueless, host Pam Oakes and ASE-certified L1 tech Jimmy Shewmaker discuss how important it is to maintain your vehicle. They stress this by giving "horror story" examples about individuals that did not listen to their tech and pushed their vehicles beyond the mechanical limits.
Pam has her Cheap Car Tip — and the emphasis on "cheap" — to help you and your vehicle's interior. Remember, a clean vehicle is a profitable vehicle. Meaning, keeping the car or truck nice will only enhance the resale value!
Our trouble service bulletins focus on Cadallic and Honda, this week. Tune in and see if your vehicle is included in the recalls that Pam announces.
Our email question of the week wants to know what to fix first, on their vehicle. Our mystery writer asks Pam if they should replace the bald tires or fix the coolant leak. Tough choice, but Pam lets them know which direction to go. And, if you have an automotive question that you would like Pam to answer, don't hesitate to email her at: [email protected]
Our gadget guru Peter Sudak is back! He has another economically priced gadget to make your life easier while traveling the highways and byways. Actually, this will help you before you get into your car or truck. Pretty interesting stuff, Peter!
And, if you would like to know more about your vehicle, click onto Pam's website carcarefortheclueless.com, for a copy of her book "Car Care for the Clueless (or How You Can 'Make Money' While Maintaining Your Vehicle)". Or visit her shop's site at pamsmotorcity.net. Look for Pam's latest book coming to a store near you: "Car Care for the Clueless: Successful Used Car Buying 101". The expected release date is February 2012. Not only is Pam an ASE-certified technician, but she has an auto dealer's license too. Learn from Pam's experiences at the auto auctions and teach you how to purchase the right vehicle – at the best price!