Listen:
Car Care for the Clueless – Your email questions answered by Pam and Peter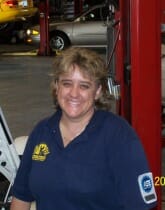 Podcast: Play in new window | Download
This week on Car Care for the Clueless, host Pam Oakes sits down with our own gadget guru Peter Sudak and plays catch-up with listeners' e-mails. Both ASE-certified technicians put in their two cents and explain in each situation why it is beneficial to your wallet to keep your vehicle maintained properly.
Our email questionnaires are: Bob from Texas, Joan from Connecticut, Maureen from Florida, Dianne from New Mexico and Don from Michigan. Their questions range from how far you can drive a vehicle while it's overheating, no start battery situations to finding vehicle fluid leaks.
If you have an automotive question that you would like Pam to answer, don't hesitate to email her at: [email protected]
And if you would like to know more about your vehicle, click onto Pam's website www.carcareforthecluess.com, for a copy of her book "Car Care for the Clueless (or How You Can 'Make Money' While Maintaining Your Vehicle)". Or visit her shop's site at www.pamsmotorcity.net
On a lighter note, check out the Car E.R. Show (www.car-ershow.com) to see what goes on behind the scenes of an automotive repair center — owned by a woman! Unique to this series is that she owns, operates and turns wrenches at the shop, day in and day out. And she give the boys a run for their money!