Listen:
Car Care for the Clueless – Save gas and save money at the same time!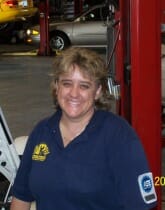 Podcast: Play in new window | Download
This week on Car Care for the Clueless, host Pam Oakes focuses on the up and coming automotive issue: fuel prices. Yes, you too can keep the cost of running your car down the street by following the simple rules that Pam discusses this week.
In fact, our Cheap Car Tip continues on the tradition of keeping money in your pocket, fuel in your car. Learn how you can "make money" while performing one, simple step with your vehicle — and you don't have to pick up any tools!
Our gadget guru Peter Sudak is in studio discussing how one tool can take the place one many with his latest gadget find. Listen in and find out how Peter can help.
Our email question of the week also talks about saving money and gasoline. Top-Tier fuel is like feeding your vehicle "health food". Listen in and learn.
And if you would like to know more about your vehicle, click onto Pam's website carcarefortheclueless.com, for a copy of her book "Car Care for the Clueless (or How You Can 'Make Money' While Maintaining Your Vehicle)". Or visit her shop's site at pamsmotorcity.net. for more auto tidbits.