Listen:
How To Live Cancer Free – "Bob Wright and The American Anti-Cancer Institute (AACI)"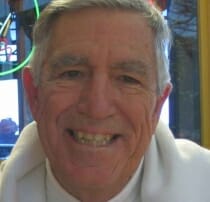 Podcast: Play in new window | Download
Bill Henderson interviews Bob Wright, founder and CEO of the American Anti-Cancer Institute about his vision of a campus near Seattle dedicated to education and research of natural cancer healing methods and healing of people like you using these methods. This is an exciting project which you can become part of through donation of both your money and time. Bob has organized a professional money-raising campaign to raise the $125 million needed to fulfill this dream. It is starting with the proceeds from the sale of his book Killing Cancer — Not People.
"They were not helped by conventional or holopathic medicine," says Bob Wright of his parents' passing and his initial motivation to start the American Anti-Cancer Institute. After the death of his own parents and watching many others suffer through similar fates, Bob Wright decided to become a fighting force for the side of "alternative" medicine.
"When did it become 'alternative' to do the natural thing and actually have an opportunity to heal your body? That's as conventional as it gets!" says Wright. But what alternatives are there for someone with Cancer? What other answers could their been when all the so-called experts are pointing to surgery and chemotherapy?
Bob Wright and Bill Henderson talk about their struggles as advocates for alternative healing. "Doctors don't heal, they treat," says Henderson. But how can someone with Cancer explain to their families and friends that they're turning their backs on conventional treatment when society has been conditioned to think of doctors as the master authority on wellness?
In this insightful visionary episode, Bob Wright and host Bill Henderson discuss their personal experiences with helping thousands of patients to heal themselves without radiation, as well as the ethics of alternative healing. And in the Cancer-in-the-News segment, Bill discusses iodine and its ability to protect you from the hazards of radiation. This is an episode you won't want to miss!