Listen:
How To Live Cancer Free – A Great Holistic Physician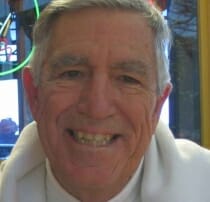 Podcast: Play in new window | Download
Bill Henderson interviews Dr. Robert Rowen, a prominent holistic physician. Throughout the episode, Bill and Dr. Rowen discuss the prostate Cancer drug Avodart and the effects of Vitamin A in cod liver oil on the body's store of Vitamin D. Bill's recent bout with the flu was evidently caused by his eating cod liver oil with whey protein for two weeks!
"I healed myself completely in about 5 hours," says Bill Henderson of curing his flu symptoms with a "massive dose of Vitamin D." But what made him sick in the first place? As mentioned above, Bill's mixing cod liver oil with whey protein didn't do him any favors! But why? Listen in to hear how Bill made this easy mistake, why it affected him so adversely, and how you can avoid following in his footsteps.
In the second half of the episode, the famed Dr. Robert J. Rowen joins the conversation, giving his opinions on Cancer: Patients, treatments, and beyond!
"I don't want anybody to suffer and I don't believe they should," says Dr. Robert Rowen of Cancer patients. However, Dr. Rowen has some strong words against narcotics. Why? How could something that relieves so much pain be bad…? Is there a way to ease the pain without the nasty side-effects? You bet!
Dr. Robert Rowen gets asked the toughest question of all: "If you were diagnosed with Cancer today…what would you do?" Dr. Rowen shares how to detoxify, regulate your body temperature, better your diet, add in supplements, and increase your dental health. Would Dr. Rowen consider using chemotherapy? Yes. But only for certain Cancers. Tune in to find out which ones!
Host Bill Henderson also reveals how he became an "Indian Medicine Man" without having any Native American Heritage–and how you can become one too! Listen in to the most informative episode of How to Live Cancer Free on the air yet!