Listen:
Rock Splitting Politics – WISCONSIN'S WALKER WINS AND NED RYUN TELLS US ABOUT THEIR NASCAR STRATEGY!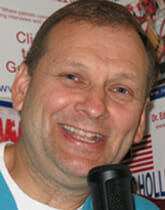 Podcast: Play in new window | Download
Join Doc's exciting show about Wisconsin's Governor, Scott Walker's win and then hold on to your hats as Doc interviews Ned Ryun of the American Majority and their NASCAR strategy. Rev up your engines and get ready to race to the finish line where Doc will give you this week's Rock Splitting Obama Fact, but first you want to hear Doc Holliday's passionate defense of Lech Walesa who was dis-invited to the White House. You can hear this on this week's TOMBSTONE OF THE WEEK AWARD! Ned Ryun will get you inspired to know what patriots are doing to get conservatives engaged to vote and make a difference in this nation. Are you ready to rumble? Click on the show that will tell you things that you will not get anywhere else as only Doc Holliday's Rock Splitting Politics can deliver. Tell your friends and your neighbors to tune in and get fired up to make a difference this election year!