Listen:
Car Care for the Clueless – Everything you wanted to know automotive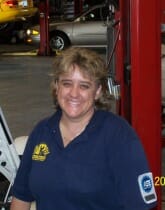 Podcast: Play in new window | Download
ASE-certified tech and radio host Pam Oakes sits down with listeners this week regarding "what's up and coming" for the car care consumer. From high-pressure, gasoline engines to $12,000 brake systems, Pam gives you the straight skinny on what to expect on newer model vehicles. Also on this week's show: How to save gasoline, improve your miles-per-gallon and this week's email question. Tune in and learn!
Remember: It's all about your vehicle and keeping money in your wallet.
If you have an automotive question that you would like Pam to answer, don't hesitate to email her at: [email protected].
And, if you would like to know more about your vehicle, click onto Pam's website www.carcarefortheclueless.com for a copy of her book "Car Care for the Clueless (or How You Can 'Make Money' While Maintaining Your Vehicle)". This October, look for a new car care forum on that site, as well. Also, visit her shop's site at www.pamsmotorcity.net Look for Pam's latest book coming to a store near you: "Car Care for the Clueless: Successful Used Car Buying 101". Not only is Pam an ASE-certified technician, but she has an auto dealer's license too. Learn from Pam's experiences at the auto auctions and teach you how to purchase the right vehicle – at the best price!
Last but not least – check out the latest automotive reality show www.car-ershow.com Episode three is launched: "A kick in the Asp"! Meanwhile "Saving Grace" and "Punked and Junked" are streaming on a computer near you.