Listen:
Car Care for the Clueless – How much money are you really spending on car care?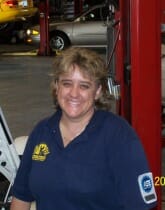 Podcast: Play in new window | Download
On week's episode of "Car Care for the Clueless" host Pam Oakes teams up with Peter Sudak – our gadget guru – for a behind the scenes look at the tire industry and practices that will make you ask, "How much am I really spending on tires?"
Of course, we have our www.carcarefortheclueless.com Q&A, a cheap car care tip for the ladies, answers for an email writer and an innovative gadget.
Tune in and learn!
And coming to a bookstore near you: Pam's second car care book is scheduled for release next week! "Car Care for the Clueless: Successful Used Car Buying 101" will be available on line at the www.carcarefortheclueless.com site, Amazon books and at a bookstore in your neighborhood. Pam is not only an ASE-certified technician, but has her auto dealer license as well. She has seen a lot and passes this knowledge to the consumer.