Listen:
Car Care for the Clueless – Surviving a disaster car care tips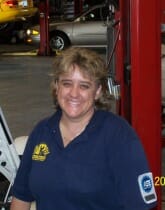 Podcast: Play in new window | Download
ASE-certified auto tech host Pam Oakes discusses how you can help your vehicle — and yourself –when a disaster strikes in your community, on this week's episode of "Car Care for the Clueless". Pam has outlined 10 car care tips from auto maintenance to safety. You, too, can survive any type of disaster that strikes by listening in and learning. Also, foreign and domestic auto recalls and our www.carcarefortheclueless.com interactive forum's Q&A of the week.
And coming to a bookstore near you: Pam's second car care book is scheduled for release this week! "Car Care for the Clueless: Successful Used Car Buying 101" will be available on line at the www.carcarefortheclueless.com site, Amazon books and at a bookstore in your neighborhood. Pam is not only an ASE-certified technician, but has her auto dealer license as well. She has seen a lot and passes this knowledge to the consumer.