Listen:
How To Live Cancer Free – "ZAPPED" by Ann Louise Gittleman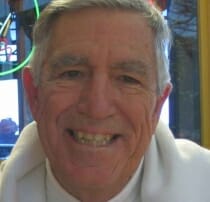 Podcast: Play in new window | Download
Host Bill Henderson interviews Ann Louise Gittleman, New York Times best-selling author, on her latest book: ZAPPED: Why Your Cell Phone Shouldn't Be Your Alarm Clock and 1,268 Ways to Outsmart the Hazards of Electronic Pollution. In the Cancer-in-the-News segment, Bill talks about the Save Your Life Course by Sam Biser and the excesses of prostate Cancer screening.
In the first half of the show, Bill Henderson reviews the Save Your Life Course by Sam Biser. Initially recommended to him by a friend, Bill found himself enthralled by the information provided by Mr. Biser in this collection of his works. Listen in to find out how to use common herbs for greater, more efficient, health benefits. If you have a blender, you're halfway there!
Sam Biser's methods have often been written off as "miracles" rather than actual treatments by conventional doctors, but the evidence to the contrary is overwhelming. Bill shares the details of a few cases of those who were diagnosed as being "terminally ill" later reviving their own lives (after their doctors had given up) through the Save Your Life Course.
In the second half, Bill welcomes Ann Louise Gittleman, the author of 30 books! In Ann Louise's case, quantity and quality are as one–each of her books has something to offer–but in this episode she's here to talk about her latest book, ZAPPED. Most people live their lives unaware of the harm electromagnetic energy can cause them. Are you aware? You will be after listening to Ann Louise Gittleman's interview!
What do cell phones and baby monitors have in common? What common household items could be putting you at risk for brain Cancer right now? How can we free ourselves of the clutches of electronic pollution? How does all this tie into the corruption of the government and our medical systems? Tune in!