Listen:
Can Turkey Become Trump's Partner to Contain Iran and Bring Peace and Stability to the Middle East?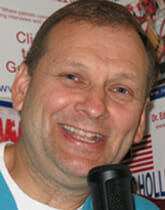 Podcast: Play in new window | Download
Doc Holliday
interviews author, Erbil Gunasti, about his innovative ideas concerning Iran, Middle East nuclear options, and how Turkey can play a key role in stabilizing the Middle East.  Gunasti's new book, GameChanger, is due out at the end of January but the author has already given a copy to President Trump and he and his wife Daphne (who we interviewed last month about her book dealing with Rick Gates) meet regularly with the Trumps. Americans overall do not fully understand the complexities of the new Middle East and we ask Erbil some background questions to help us better understand the big picture before he starts zeroing in on real clear solutions concerning how Turkey can be a partner to help President Trump achieve America's goals concerning Iran.  Why did Trump pull most of our troops out of Syria and give Turkey room on the Syrian border?  These are questions that GameChanger will help us all better understand and we have the author on this week's
Rock
Splitting
Politics answering questions that you are not hearing anywhere else!  You can order Erbil Gunasti's new book, GameChanger,
here
.  We will have more about this show on our
FaceBook
page so be sure to check it out also!