Listen:
Struggling For One America, Authors Daphne Barak and Bill Gunasti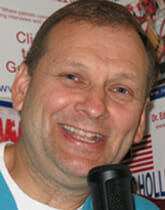 Podcast: Play in new window | Download
Join Doc Holliday for his fascinating interview of Donald Trump's personal friends and authors of the new book, Struggling For One America (Trump Vs. Hollywood, The Two White Houses)!
Daphne Barak and Bill Gunasti have been on Rock Splitting Politics several times and now they have put together a book building on their monumental documentary from last year called Fighting 4 One America.  Twenty four stars from the world of acting, entertainment, and Hollywood are part of the documentary and the book to detail the struggles for one America.
Daphne and Bill tell a story of America today as if they were taking the pulse of a person whose heart is beating hyperactively.  Don't miss this opportunity to hear about how the book came together, but there is much more. Do you remember our past shows dealing with blockchain technologies and cryptocurriencies?
There is a new art form based on blockchain technologies called NFTs and Daphne will announce on this show for the first time ever an exciting new chapter in her life and in Hollywood dealing with NFTs!  You can check her announcement here and go to www.OG2D.com.  And if you listen to this entire show you will hear an opportunity to win an autographed copy of their new book!  Click on this week's show now and become a part of all this excitment!
Rock Splitting Politics proudly supports Harmony.one