Listen:
Fish Talk Radio – Chucky Van Wormer won with a 457 lb Marlin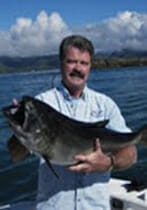 Podcast: Play in new window | Download
John and the Griz are joined by John Krska giving information great lake fishing in the South. In the Baja Report, Chucky gets to brag about with tournament winning Marlin. Craig Jaffurs a wine maker and fly fisherman, relates his adventures fishing the Eastern Sierras.
Bob from Holiday Isle brings us up to date on the Florida Keys.