Listen:
Fish Talk Radio – San Diego Long Rang Boats travel 600 miles to fish Magdalena Bay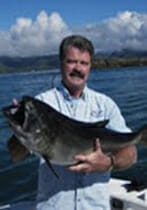 Podcast: Play in new window | Download
David Jones of Fisherman's Fleet in La Paz is hosting trips to Magdalena Bay. Editor of Kayak Magazine, Paul Lebowitz gives information on the innovations of fishing from a kayak. Fly fishing with Eric Rangel and Bass fishing with Mark Lassagne. Paul Strasser explains the most unique long range fishing fleet in the world.