Listen:
Fish Talk Radio – San Diego class long range fishing is like nothing else in the world,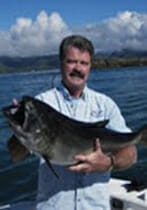 Podcast: Play in new window | Download
John and Griz host. Paul Strasser of the Independence explained the reasons people come from all over to experience big game fishing on boats that are like mini cruise ships. The bite is wide open in Cabo San Lucas according to John Donovan operator of Redrum Sportfishing. Mark, publisher give tips for fishing on warm Summer days. Learn about a "Little Lake" in California. Kent, operator of Troutfitter takes us around Mammoth Lakes area.