Listen:
Fish Talk Radio – Women continue to grow into the sport of fishing. Some great reports for fall fishing.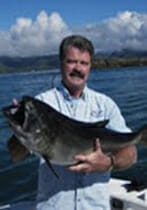 Podcast: Play in new window | Download
Susan Herrgasil President of Becoming an Outdoors Woman of California gives an update of what some of the ladies are doing. Minerva the "Queen" of Cabo fishing brings us up to date.
Mark publisher of Bass Angler Magazine gives a overall report of , guess what! After a report from Diamind Valley Lake we go to Redding CA, one of the finest fishing areas in the US.