Listen:
Car Care for the Clueless – Auto history, needed maintenance on automatic transmissions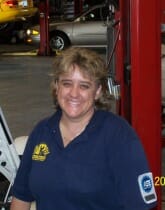 Podcast: Play in new window | Download
ASE-certified tech and radio host Pam Oakes teams up with ASE-Master Pablo Sarmiento to give listeners a little automotive history this week. The two techs talk about the evolution of the automatic transmission and what you can do to prevent premature failure of this costly part. Tune in and learn!
Remember: It's all about your vehicle and keeping money in your wallet.
If you have an automotive question that you would like Pam to answer, don't hesitate to email her at: [email protected].
And, if you would like to know more about your vehicle, click onto Pam's website www.carcarefortheclueless.com for a copy of her book "Car Care for the Clueless (or How You Can 'Make Money' While Maintaining Your Vehicle)". This October, look for a new car care forum on that site, as well. Also, visit her shop's site at www.pamsmotorcity.net Look for Pam's latest book coming to a store near you: "Car Care for the Clueless: Successful Used Car Buying 101". Not only is Pam an ASE-certified technician, but she has an auto dealer's license too. Learn from Pam's experiences at the auto auctions and teach you how to purchase the right vehicle – at the best price!
Last but not least – check out the latest automotive reality show www.car-ershow.com Episode three is launched: "A kick in the Asp"! Meanwhile "Saving Grace" and "Punked and Junked" are streaming on a computer near you.