Listen:
Fish Talk Radio – JOHN and the "Griz" report from Baja to Seattle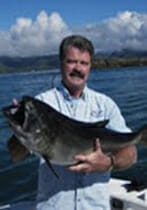 Podcast: Play in new window | Download
Starting with Chucky in East Cape of Baja we find it has been unusual weather year. Fishing is great and instead of a desert Baja Sur looks tropical.
We spend 12 minutes in Seattle with All Star Charters to learn that fishing is an all year activity in Seattle and the inland waters are like a lake. Then to Loreto with Ana Gloria whose family has operated the Oasis Hotel for more than 50 years. Loreto was the original capital of all of California founded in 1697 and remains today as a world class fishing destination, but with old word charm.