Listen:
How To Live Cancer Free – "Natural Pain Relief and Raymond Francis"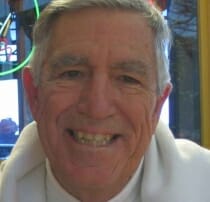 Podcast: Play in new window | Download
In this fan favorite episode, Bill Henderson interviews Raymond Francis, author of Never Be Sick Again and Never Be Fat Again. They discuss Raymond's concepts of "one disease, two causes, and six pathways." You will never understand how to get and stay well better than after you hear Raymond Francis describe health and disease! In the "Cancer-in-the-News" segment, Bill discusses several foods that fit well into a Cancer-fighting diet. They include chocolate, red wine and broccoli. He also discusses how the "Standard American Diet" (SAD) causes colon Cancer.
"There's no pleasant way, that I know of, to prevent Cancer than eating some dark chocolate," muses Bill Henderson. Tune in as he lists several other pleasant ways to prevent Cancer with your diet! Why do these food items work? What research is there to back it up? Where can you get these delicious Cancer-preventing treats? Don't worry; Bill is prepared to answer all your questions on this subject!–and even provide you a link to an easy recipe for making your own dark chocolate at home!
Next on the agenda: Taking on the Standard American Diet (SAD). This diet, with its "emphasis on cooked food and meat, particularly beef and pork" has been brought up as unhealthy again and again…with good reason! Colon Cancer thrives on American's SAD-ness. But what can you do to stop it?
The second half of the show is dedicated to Bill's stunning interview with author Raymond Francis. "I was within inches of death when I took some Vitamin C… It saved my life," says Raymond Francis, relaying his story of how he cured himself of Cancer. Having almost died at age 48, Raymond is now 72 years old with the arteries of a 26-year-old!–This man is doing something very, very right. And you can do it too!
This episode will make your mouth water in the first half and leave you feeling awe-inspired in the second half! Are you ready to be saved from the brink of death by a method "so easy you could teach it to a child?" Tune in!