Listen:
Fish Talk Radio – Fishing in Southern CA in the 1950's. Find out where the blue water fish are and how to find them, plus a lake report.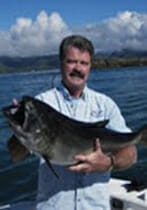 Podcast: Play in new window | Download
Pete Haynes recalls his early days of fishing in Southern CA in the 1950's in the ocean and for steelhead in the creeks. Minerva in Baja gives report of monster tuna and many Marlin close to the marina. Jan introduces a new product to protect against sun and wind on your face. Jeff of Terrafin explains how to find fish using Satellite technology. Tawny give a winter lake report.