Listen:
Fish Talk Radio – 021113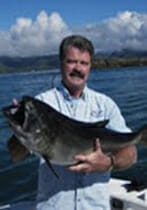 Podcast: Play in new window | Download
Kayak expert Paul Lebowitz explains why self powered boats have the advantage in catching fish. 1,087 pound Marlin CAUGHT SIX MILES FROM CABO SAN LUCAS HARBOUR! The original fish information source 976Tuna joins in and explains why bigger Tuna and being caught. Russell from Clover Pass Lodge gives update for this year.
The stealth of kayaks and ability to reach more areas make them the best fishing craft for inshore and fresh water fishing. John Donovan from Red Rum Charters in Cabo explain how and why this monster was caught with all anglers aboard over 80 years old! 976Tuna was giving up to the minute fishing reports before the internet. Russell Thomas in Ketchikan has up to date fishing information and regulations for Southeast Alaska. Lake Shasta is the place to go this winter.