Listen:
Fish Talk Radio – 102813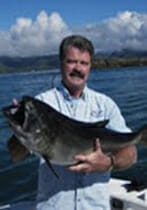 Podcast: Play in new window | Download
Betty in Florida with "LADIES LET'S GO FISHING" is co host with John. We learn about how and why women anglers are about 40 percent of beginning anglers. Betty and Minerva in Cabo San Lucas compare notes and get the Cabo report. Mark, publisher of Bass Angler Magazine cover women in fishing while he is on the water in Sacramento River Delta catching large mouth Bass. Then the subject continues with Channel Islands Sportfishing sharing their information.