Listen:
Fish Talk Radio – Deadliest Catch Captain Sig Live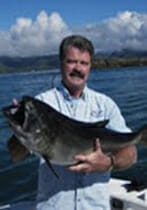 Podcast: Play in new window | Download
John,The Griz and restaurant owner Michael DeRousse, can't help themselves talking favorite fish to cook, joining in from Cabo San Lucas, Chucky operator of Palmas De Cortez the warm weather makes for some great fishing. Kayak Fishing Magazine expert Paul Lebowitz share the big explosion of Kayak fishing! John Prochnow Director of Product Development for Berkley shares what's new for Berkley.