Listen:
Fish Talk Radio – THIS WEEK In search or world record Grouper on a fly. Main Lobster and Confessions of a Camo Queen.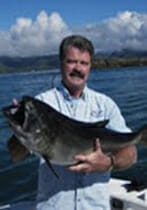 Podcast: Play in new window | Download
Griz was on a quest to catch an IFGA world record for Broomtail Grouper on a fly rod. You have to hear the story. Ray Young of Youngs Lobster Pound in Main has for generations operated sustainable harvesting of Main Lobster and Shellfish. If you like Maine Lobster this is for you. Kristen Berube, The Camo Queen authored a book that extremely humorous and a lot of women can relate to.