Listen:
Fish Talk Radio – Ladies, Let's Go Fishing!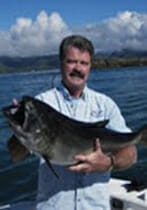 Podcast: Play in new window | Download
Betty, leader of "Ladies Let's Go Fishing" in Florida, specializes in teaching women to fish, then taking them on fishing trips.
Tom Matush has the "Huli Cat" a charter fishing boat South of San Francisco. He is now catching Dungeness Crabs and Sand Dabs. Tom, the Griz and John discuss what the Government is and is not doing to help our fisheries.