Listen:
Fish Talk Radio – Archery with Frank Addington, Footwear with Kevin Lamar, Bass Fishing, Berkley Fishing Lines with Joe Meyer, Salmon Fishing with Guide Dave Jacobs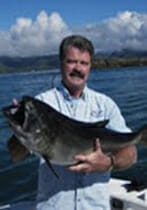 Podcast: Play in new window | Download
Hour one
John & Frank have put together an incredible show.
Kevin Lamar, CEO of Soft Science, has tips on footwear that let you stay comfortable all day in any environment.
The world's most accurate archer is Frank Addington. Called "aspirin buster" because someone can throw a baby aspirin in the air and can hit with an arrow shooting from behind his back.
He shares knowledge on archery and hunting.
Hour two
Professional Bass angler and owner of Bass Angler Magazine is at Clear Lake getting ready for Tournament. He will help you catch more Bass.
Joe Meyer the expert on fishing lines for Berkley. Find out what is new and difference with earlier types of line.
Dave Jacobs is fishing guide in Northern California and Southern Oregon. Right now he is limiting out on King Salmon and taking clients in early!