Listen:
Fish Talk Radio – Tiffany Vague, Jeff Wedekind, Seth Dubois, Mark Lassange and Dale Cote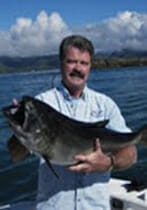 Podcast: Play in new window | Download
Hour one
Host John Henigin and Co-Host Frank Selby open the show with Tiffany Vague.
Tiffany is a professional rod wrapper working out of the Hook, Line and Sinker shop in Santa Barbara, California. The web site is hooklineandshooter.com.
Up next is Jeff Wedekind with the Chinook Shores Fishing Lodge in Ketchikan, Alaska. They feature unguided, self-guided and guided fishing vacations. Go to chinookshores.com.
Hour two
John Henigin and Frank Selby start off hour two with Seth Dubois. Seth works out of Anglers Center in Newport Beach, California. Check out anglerscenter.com. Seth talks about his recent trip to Magdalena Bay along the western coast of Baja California Sur.
The show continues with Mark Lassange from Bass Angler Magazine. The web site is bassanglermag.com. Mark talks about some favorite fishing spots and equipment including his Alabama Rig.
The final guest is Dale Cote from Dream Maker Charters out of Cabo San Lucas. John and Frank talk about their recent fishing trip with Dale. Find out more at 
www.dreammakercharter.com
.