Listen:
Fish Talk Radio – Cabo Smoke House, Berkley Scented Baits and Freedom Boat Club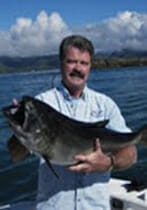 Podcast: Play in new window | Download
Hour One
John Henigin and Co-Host Frank Selby welcome Gracie from Dream Maker
Charter in Cabo San Lucas, Mexico. Gracie operates Gricelda's Smokehouse,
the only licensed smokehouse in Cabo. Find out more at
dreammakercharter.com <http://dreammakercharter.com/>. Up next is Scott
Brown with Chrysler Motors. Scott talks about the new 2018 incredible RAM
trucks, Jeeps, Alpha Romeos and Fiats. Finishing up hour one is Bart
Larmouth from Ross Reels. Ross makes the best performing reels in the
business. Check out rossreels.com <http://rossreels.com/>.
Hour two
John Prochnow with Berkley Fishing opens hour two. John talks about
Berkley's amazing scented baits. Go to berkley-fishing.com
<http://berkley-fishing.com/>. Next, John Henigin and Co-Host Frank Selby
bring in Dave Jacobs. Dave is a fishing guide in Northern California and
Southern Oregon. Contact Dave at sacramentofishing.com
<http://sacramentofishing.com/>. Our final guest is Andrew Hard from The
Freedom Boat Club in Huntington Beach, CA. Andrew describes how you can
enjoy boating and fishing without any ownership hassles. Get all the
details atfreedomboatclub.com <http://freedomboatclub.com/>.