Listen:
Fish Talk Radio – Bart Hall, Frank Duarte, Julianna Jackson, Eddie Van Wormer, Michael O'Brien and Zack Higgins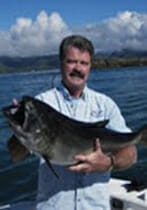 Podcast: Play in new window | Download
Host John Henigin and Co-Host Frank Selby open the show with Bart Hall.There's still time to check out the Fred Hall Shows in Long Beach and Del Mar. It's the ultimate outdoor experience. Details at fredhall.com.
Our next guest is Frank Duarte from Chico, CA. Frank has been a full-time guide in Northern California and Southern Oregon since 1985. He's got some great tips on how to "read" water. Contact Frank at fishduarte.com.
Finishing up hour one is Julianne Jackson. Julianne is the booking agent and business manager for Pyramid Lake Guides out of Pyramid Lake, Nevada. She also guides on Pyramid Lake and the Green River areas. All the details at pyramidlakeguides.com.
And be sure to visit Frank Selby's His and Her Fly Fishing Shop in Newport Beach, California. His web site is hisandherflyfishing.com.
John and Frank open hour two with Eddie from Van Wormer Resorts located in the East Cape region of Baja California Sur, Mexico, and situated on Baja's world renowned Sea of Cortez. Find out more at vanwormerresorts.com.
Michael O'Brien with Michael O'Brien Charters in Key West, Florida stops back by. He gives us a cool audio travel tour of the Florida Keys. Michael's web site is tarponkeywest.com.
The show wraps up with Zack Higgins from Soft Science. Zack explains how Soft Science is able to create the perfect balance of comfort and support in their shoes and boots. Order at softscience.com.