Listen:
Sonoma, Fly Fishing, Underwater Cameras and more ..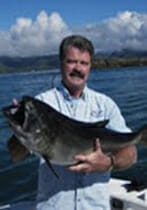 Podcast: Play in new window | Download
Fish Talk Guests for 051218
Hour One
We open hour one with Tim Zahner, Chief Operating Officer of Sonoma County Tourism. Also on the line is Captain Rick Powers with Bodega Bay Fishing. The guys discuss fishing off the Sonoma, CA coast. If you're looking for awesome
Our next guest is Len Zickler, President and CEO of Fly Fishers International. Len talks about some of FFI's programs for children. He says, "If you introduce your kids to fly fishing early, you solve a lot of problems." The FFI web site is
The last guest for hour one is Gary Borger. Gary is an author, educator and fly fisherman. He has some super tips on freshwater and saltwater fly fishing. Don't miss his website: 
garyborger.com
.
And be sure to visit Frank Selby's His and Her Fly Fishing Shop in Newport Beach, California. His web site is 
hisandherflyfishing.com
.
Hour Two
Host John Henigin and Co-Host Frank Selby start hour two with Brandon Austin. Brandon's got that cool company called GoFish Cam. The guys discuss the many benefits of using the underwater camera. Great tutorials at 
gofishcam.com
.
Up next is
Jeff
Patterson with Abel Reels.
Jeff
talks about the background of Abel Reels and let's us know that there are new models on the way. All the details at 
abelreels.com
.
We wrap up the show with Mike Kaul out of Pinedale, Wyoming. Mike is a guide and instructor. Plus he shows property owners how to enhance their private fishing waters. Definitely worth a listen. You can reach Mike at
And don't forget, we've partnered with Mystery Tackle Box to get you all a great deal. Use the promo code FISHTALK for $10.00 off your first subscription. Visit 
mtbfish.com/fishtalkradio
to learn more and subscribe.