Listen:
Dreammaker Charters, Fly Fishing, Flavors that fish love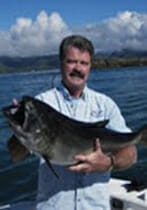 Podcast: Play in new window | Download
We open hour one with Gracie from Gricelda's Smokehouse in Cabo. Her husband, Dale, runs their charter boat business, Dreammaker Charters. Awesome people in an awesome place. Check out dreammakercharter.com.
Our next guest is Andrew Scrivo with Dragon Fly Fishing Guides out of Seward, Alaska. Have you heard about Hike-in Float Tube Fishing? It's a unique experience, away from the crowds. Go to dragonflyfishingguides.com.
The last guest for hour one is Danny Kadota. Danny is just back from fly fishing in Guyana. He talks about catching everything from arapaima to redtail catfish. Danny's on facebook at https://www.facebook.com/danny.kadota.
Hour Two
Host John Henigin and Co-Host Frank Selby start hour two with John McGannon. John runs Wild Eats, the industry leader with their superior line of Dry Rubs and Seasoning Blends. He's got some great tips for prepping, cooking and eating wild game. More info at wildeats.com.
Up next is John Prochnow, Director of Product Development for Berkley, specializing in soft baits. John explains how to use scents and flavors to target various fish species. Check out their site at berkley-fishing.com.
We wrap up the show with Jason Johnson out of Greensburg, Kansas. Jason is an upland gamebird researcher and hunting guide offering some of the best upland bird hunts you can find in the country. Start planning your trip at uplandinnhunts.com.