Listen:
Fly Fishing for the family, Staying Afloat with Aire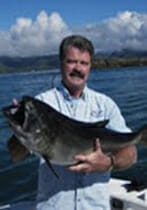 Podcast: Play in new window | Download
Our guest host is Bob Semerau, staff writer for Western Outdoor News. Check out 
wonews.com
. Bob joins co-host Frank Selby for this week's show. Frank owns and operates His & Her Fly Fishing Shop in Newport Beach, CA. Stop by 
hisandherflyfishing.com
.
We open hour one with Robin Cooper out of Newfoundland and Labrador, the most easterly province of Canada. For nearly 40 years Coopers' Minipi Lodges has lured anglers, photographers and adventure travellers from around the world. Start planning your trip at 
minipi.com
.
Our next guest is John Shewey, Editor-in-Chief for the Northwest Fly Fishing family of magazines. John has some great fishing tales and he explains how he picks stories and authors published in his magazines. The web site is 
matchthehatch.com
.
The last guest for hour one is Chris Callahan with the boat manufacturer AIRE Inc. Chris discusses everything from float tubes to pontoon boats and the importance of the 80% Rule. Check out both web sites at 
aire.com
and 
outcastboats.com
.