Listen:
Cuba, California, Flyfishing and Bass Pro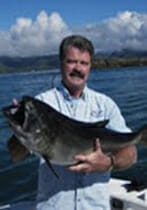 Podcast: Play in new window | Download
We get started with Captain Phil Thompson. The great news is that we're putting together a fishing trip to Cuba with Captain Phil probably in January or February. Get in touch if you'd like to join us. Call John at 805-207-3522. Learn more about Captain Phil's trips at 
captphilthompson.com
.
Up next is Brad Jelinek out of Warsaw, Missouri. We catch Brad actually fishing on Lake of the Ozarks. We discuss everything from bass and crappie to stripers and wipers. Plan your trip with Brad at 
thereelfishingguide.com
.
Hour one wraps up with with Frank Selby's fishing buddy, Jim Pinto. Jim is just back from Kansas and Missouri fishing for bass and golden rainbow trout. Plus he checked out the Bass Pro Flagship Store in Springfield, Missouri. It's Disneyland for fishermen!
Be sure to visit Frank Selby's His and Her Fly Fishing Shop in Newport Beach, CA. His web site is 
hisandherflyfishing.com
.
—————————————————-
Hour two gets rolling with a storm report from Grace at Gricelda's Smokehouse in Cabo San Lucas. Hurricane Bud was just hitting Cabo when we called so we get a first hand report. Stop by to see Dale and Grace Cote the next time you're in Cabo and check out 
dreammakercharter.com
.