Listen:
Kids, Tournaments, Bass and More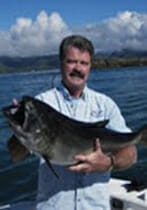 Podcast: Play in new window | Download
FTH guest line up for 062318
Guest co-host Bob Semerau opens the show. Bob is a staff writer for Western Outdoor News. Check out 
https://www.wonews.com
. We talk about some upcoming fishing tournaments and Bob's recent trip to Frontier Charters and Lodge in Sitka, Alaska. More info at 
http://frontiercharters.com
.
Up next is Danny Kadota who just returned from an eight-day fishing trip with H&M Landing. H&M is the West Coast's oldest, most experienced sport fishing company, representing San Diego's finest passenger fleet. Go to 
https://www.hmlanding.com
.
Hour one wraps up with with Patrick Neu. Pat is the President of The Future Angler Foundation. They work to get young folks involved in fishing. Check out 
http://www.futureangler.org
.
Plus, Pat is the Executive Director of The National Professional Anglers Association. NPAA helps people transition from amateur status to pro status. More info at 
https://npaa.net
.
—————————————————-
Our first guest for hour two is  "Mike, the Alaskan RV Butler." He's your one-stop travel planner, chauffeur, sightseeing guide, chef and server. Cool website at 
http://www.thealaskanrvbutler.com
.
Mark Lassange stops by next. Mark is the editor of Bass Angler Magazine. We talk about a typical day in the life of a professional bass angler and some of the articles in Bass Angler Magazine. On the web at 
https://bassanglermag.com
.
Next it's Fitz Johnson. Fitz runs River Rock Recovery, an outdoor adventure program for men and women in recovery. Like Fitz says, "We're all addicted to something." Why not make it the natural high of being outdoors. Gotta check out 
https://www.riverrockrecovery.com
.
Hour two wraps up with John Marriott, CEO of Soft Science. Soft Science makes amazing shoes for fishing and boating with women's styles too. Try them once and you'll be a fan forever.  Shop at 
https://www.softscience.com
.