Listen:
Trout, Bass and Alaska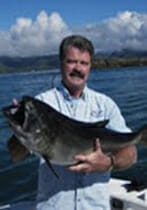 Podcast: Play in new window | Download
Our first guest for hour one is Jim Tinto. Jim is a world-wide fisherman and one of Frank Selby's old buddies. We talk about everything from New Jersey fishing to the joys and benefits of Yahtzee float tubes. Ric Haulenbeck stops by next. Ric operates a lodging and guide service out of Ennis, Montana on the Madison River. He gives us an overview of the various lakes and rivers in his area. Be sure to check out the web site at https://www.33lastbestplace.com. We wrap up hour one with Bob Blankenship. Bob is the president of the South Coast Chapter of Trout Unlimited. Trout Unlimited believes that if we "take care of the fish, then the fishing will take care of itself." Good web site at https://www.tu.org. And don't forget to visit Frank Selby's shop at http://www.hisandherflyfishing.com. —————————————————————-
Hour Two John Henigin and Frank Selby open hour two with Ron Bowers, another one of Frank's fishing buddies. We catch Ron fishing near Ft. Collins, Colorado targeting crappie, bass and trout. Our next guest is Rick Emmit, Marketing Manager with Bass Pro's White River Marine Group. We discuss the various boat brands owned by Bass Pro under the White River umbrella. So much going on. It's always fun to check out the web site at https://www.basspro.com. John and Frank wrap up hour two with a reminder about our upcoming trips to Alaska and East Cape. The Alaska trip is sold out but you can learn about the East Cape trip at https://www.fishtalkradio.com/reel-fun-fishing-adventures-la-paz-mexico.