Listen:
Cabo, Archery and the San Juan River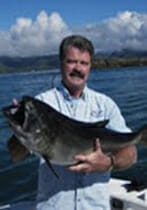 Podcast: Play in new window | Download
Hour One
John Henigin and Frank Selby open hour one with Jim Korchinsky, owner of Blue Sky Charters out of Cabo San Lucas. The guys talk about the various yachts you can charter. Plus Jim reminds us about the sunset cruise he offers every
Wednesday
. Check out Blue Sky's live videos on 
https://www.facebook.com/BlueSkyCabo
.
Up next it's "The Aspirin Buster" Frank Addington. Frank is an expert bow shooter and he does a show unlike no other. He does the entire show with his recurve bow behind his back! Seeing is believing at 
https://www.frankaddingtonjr.com
.
We wrap up hour one with Tim Chavez out of Northwest New Mexico. Tim operates Abe's Motel & Fly Shop, outfitting fisherman for the San Juan River since 1958. Spend some time and book your trip on their beautiful web site: 
https://www.sanjuanriver.com
.
—————————————————————-
Hour Two
We open hour two with Ana Gloria Davis. Ana's family has owned The Oasis Hotel in Loreto, Baja California Sur for 57 years. The Oasis is ideal for family stays, groups, business trips and even more for sports fishing enthusiasts looking to try their luck in the waters of the Sea of ​​Cortez. Details at 
http://www.hoteloasis.com
.
John Marriott with Soft Science stops by next. Soft Science makes fuss-free footwear perfect for fishing, boating and even casual use. John Henigin and Frank Selby swear by their Soft Science shoes. Pick out your favorite styles at 
https://www.softscience.com
.
Our final guest for hour two is Mike Grumet. Mike is the Alaskan RV Butler, your one-stop travel planner, chauffeur, sightseeing guide, chef and server. Learn more at 
http://www.thealaskanrvbutler.com
. We also get into the electric bike business Mike's family operates in Huntington Beach, CA. Good info and cool bikes at