Listen:
From Alaska to East Cape to Miami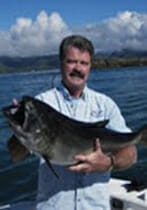 Podcast: Play in new window | Download
John Henigin and Frank Selby open hour one with Tony Behm from Alagnak Lodge. Alagnak Lodge is the premier Alaska fishing lodge located on the Alagnak River in Bristol Bay, Alaska. The Alagnak River has long been renowned as one of the finest sport fishing rivers in Alaska. Check out 
https://alagnaklodge.com
.
Up next it's Michael Briggs from Clover Pass Resort in Ketchikan, Alaska. John and Frank are just back from their annual fishing trip to Clover Pass. They rave about the great staff and the incredible food. Plus, Frank gets to brag about the halibut he caught. It was a 38-inch, 30-pound beauty. Learn more about the resort at 
https://www.cloverpassresort.com
.
——————————————————
Hour Two
Hour two gets underway with Ciri, one of Frank's fishing pals. Ciri is a semi-retired guide out of Miami, Florida. She discusses everything from catching tarpon off the Florida coast to finding huge trout in Northern Alaska. Both Frank and John ask Ciri for her hand in marriage after this segment!
Our final guest is Frank Burr, the V.P. of Business Relations for Snowbee USA. We cover tenkara fishing, catching golden trout as well as how Snowbee is making fly fishing affordable to everyone. Cool products at 
https://snowbee-usa.com
. Plus, Frank Burr has his own fly shop at 
http://www.oasisflyshop.com
. Definitely worth a look.