Listen:
East Cape, The Godfather of Finesse Fishing and Fly Fishing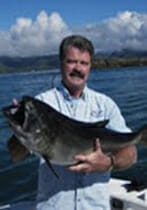 Podcast: Play in new window | Download
We kick off hour one with author and fly fisherman Bruce Staples from Idaho Falls. We talk about fishing "trout country" in the west Yellowstone area. You can get up-to-date info on the latest hatches and water conditions in southeast Idaho at 
https://jimmysflyshop.com
.
Up next it's Don Iovino out of Burbank, California. Don is known as the "Godfather of Finesse Fishing" and he's an expert on sonar devices. Don says the key to success with a fish finder is to understand how to read the screen. Check out Don on Facebook or email 
[email protected]
.
We continue the fish finder discussion with Jason from Terrafin. Since 1998 they've provided computer enhanced sea surface temperature (SST) and chlorophyll charts for anglers and divers. Terrafin currently processes customized charts for over 200 regions in the Continental U.S., Hawaii, Mexico, Central America and even Australia. Incredible info at 
http://terrafin.com
.
——————————————————
Hour Two
Our first guest for hour two is Chris Witt, the creator of Rippin Hoo and Hellraiser Teasers. Chris figured out that flash attracts fish so he invented some lures that really work. Just ask Jim from Blue Sky Charters out of Cabo San Lucas, Mexico. You can find Chris on Facebook by searching for "rippin hoo" or "hellraisers."
Frank Addington makes another visit to our show. Frank is known as "The Aspirin Buster" because he shoots aspirins out of the air, behind his back, with a bow. He discusses how he developed what he calls the "mental mastery" of bow target shooting. Check out 
https://www.frankaddingtonjr.com
.
Our old friend Mark Lassagne wraps up hour two. Mark is the editor of Bass Angler Magazine and he guides on the California Delta. We talk about bass fishing and which baits and rigs have proven to be successful. Always great info at 
https://bassanglermag.com
.