Listen:
Kayaks, Big Texas Bass and Old Friends.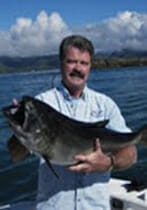 Podcast: Play in new window | Download
Frank Selby is our host this week.
We open up with Mike Allen. Mike produced and appeared in the
Hobie kayaking DVD that is included with each Hobie kayak sold
worldwide, as well as the new "Hobie – Fish The World" DVD.
Next we talk to David Vance out of Lake Fork, Texas.
David has been a professional guide on this world-famous lake
east of Dallas since 1981. Get in touch with David at 903-629-5085
We wrap up hour one with Ron Bower. Ron and Frank have been
fishing buddies for over 40 years. They reminisce about winning
tournaments, getting lost on the road and learning their trade.
===========================
Hour Two
By special request we are repeating a show from
early June of this year for hour two of Fish Hunt Talk Radio.
Up first is Arrick Swanson. Arrick runs Arrick's Fly Shop
in West Yellowstone, Montana. They're celebrating 25 years
of guiding on the Madison, Gallatin and Firehole Rivers.
Jon "Scooter" Griffith joins us next. "Scooter" is an Arizona
fishing guide for both fly and conventional anglers. He will
show you the desert fisheries like you have never seen before.