Listen:
Healing Waters and Arizona Fun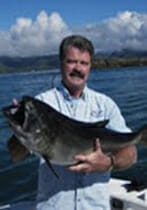 Podcast: Play in new window | Download
Our first guest is Joseph Narkevitz in our Santa Barbara studio. Joseph teaches fly fishing and he's also the Program Lead for the Santa Barbara Chapter of Project Healing Waters. Get more info and check to see if there's a chapter in
your area: http://projecthealingwaters.org.
Up next it's Chris Pitsilos with Berkley Fishing. Chris is in charge of fishing line development and Berkley has some great new products coming out, including X-5 and X-9 Braids. Stop by http://www.berkley-fishing.com.
We get Ron Pecore on the line out of Arvada, Colorado. Ron operates 5280 Angler offering Colorado fly fishing trips year round. He also runs Bow Country Outfitters on his family land in Nebraska targeting Whitetail and Turkey in the fall and spring. Find out more at https://5280angler.com.
Our old friend Jon "Scooter" Griffith from Mesa, Arizona wraps up hour one. Scooter offers both fly and conventional trips. We talk trout, carp and striper. Check out http://www.thearizonafishingguides.com.
Hour Two
We spend more time with Joseph Narkevitz during hour two and learn more about Project Healing Waters. This non-profit is dedicated to the rehabilitation of disabled active military service personnel and disabled veterans through fly fishing. E-mail Joseph at [email protected]
John Marriott with Soft Science Shoes joins us next. Soft Science has a whole new leisure line coming out in time for the holidays. And like Frank Selby says, "It's like not even having a pair of shoes on." Do some shopping on
https://www.softscience.com.
Neil McDonald out of Nashville, Tennessee wraps up hour two. He's a fly fishing guide and casting instructor. Neil also works with Project Healing Waters AND he's put out an acoustic guitar CD. He's multi-talented and a super nice guy.
Here's his site: http://www.tennesseeflyfisher.com.