Listen:
100 Pound Catfish and Butt Juice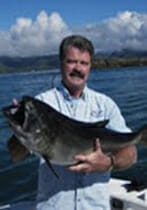 Podcast: Play in new window | Download
We start off talking about fishing on Lake Tawakoni east of Dallas. The experts are Teri and Michael Littlejohn. They tell us how to catch Trophy Blue Catfish that range from 50 to 100 pounds. Teri and Michael are super guides. Check out the web site and plan your trip: 
https://www.tawakoniguideservice.com
.
Our next guest is Minerva Saenz Valenzuela from Minerva's Baja Tackle out of Cabo San Lucas. Minerva describes the Southern Baja fishing experience and she gives us an overview of the various Baja fishing tournaments. Be sure to visit Minerva the next time you're in Cabo. Until then, check out 
http://minervas.com
.
We wrap it up with our old friend Steve Lynch in Oregon. Steve is the co-owner of PRO-CURE. PRO-CURE makes products that actually make fish hungry and want to feed. From Ninja Gloves to Butt Juice, PRO-CURE will make you a
Listen to Fish Talk Hunt Radio on SiriusXM, Channel 211, Saturdays at 12 noon Eastern and 9 am Pacific. Email 
[email protected]
to win a prize.