Listen:
Fishing from The Keys to El Salto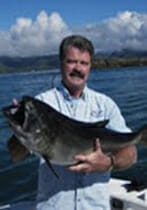 Podcast: Play in new window | Download
To open the show we head out to Big Pine Key, Florida to touch base with Captain Brandon Henley. He runs Florida Keys Fly Fishing. Brandon says "if saltwater fly fishing were a football game, the Florida Keys and Key West would be the Superbowl." You gotta check out his web site and plan a trip: 
http://flyfishingthefloridakeys.com
.
Next we hear from Brandon Wesselink with Thresher Boats. Thresher Boats makes quality, affordable fishing boats. Brandon let's us know about their new Thresher 22 "Pilot House" coming out in March. You'll enjoy their web site: 
www.thresherboats.com
. And Brandon has some sweet deals for Fish Hunt Talk Radio listeners.
We get Jason Grupp back on the show. Jason is based in California's Santa Ynez Valley. He talks about the two private trout lakes that he operates. He also runs Break Water Tours offering trips to places like Mexico and Belize. Great guy and a neat web site: 
http://www.breakwatertours.com
.
Frank Burr from Snowbee-USA joins us. We track him down at the Fly Fishing Show in Edison, New Jersey. Snowbee offers world-famous fly fishing products that make fly fishing affordable for everyone. Do some shopping at 
https://snowbee-us