Listen:
Getting An Extra 10-20 Fish A Day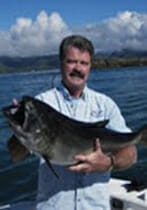 Podcast: Play in new window | Download
We track down Bob Sparre out sturgeon fishing. He's been guiding in Northern California for 30 years. Bob says the difference between a good trip and a GREAT trip are the small details that can get an extra 10-20 fish a day. Check Bob out on Facebook or go to 
https://www.bobsparre.com
.
Next we head to Island Park, Idaho to chat with Chris Lawson. Chris and his dad Mike operate Henry's Fork Anglers. The fly shop sits near the banks of the famous Henry's Fork of the Snake River. Perfect
We're able to get Matt Swainbank with Mustad Hooks back on the show. It's another amazing class in "Fish Hooks 101." Mustad has manufactured hooks since 1877. Worth a visit: 
https://mustad-fishing.com
.
We wrap it up with our buddy Frank Burr from Snowbee-USA fly fishing products. We find Frank at the Pleasanton Fly Fishing Show. Check out this YouTube video to see what the Snowbee folks are all about: 
https://www.youtube.com/watch?v=eZxtlg_48YI
.