Listen:
Green Pumpkin Flies and Aspirin Bustin'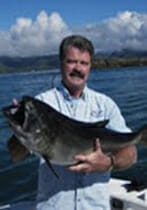 Podcast: Play in new window | Download
Frank and John get us started. We catch Frank giving fly fishing demos at the Hall Show in Long Beach, California. John is just back from the show where he
checked out new equipment and cool products.
Up next it's Mark Lassange with Bass Angler Magazine. Mark has some great tips on what fly color patterns work best in various types of water. We also affirm the importance of hiring a pro guide when you fish unfamiliar areas. You'll save time and you'll be successful.
By popular demand we bring back Steve Lynch with Pro-Cure. Pro-Cure makes
those amazing bait scents that really do work. Steve explains how. Details at
We're able to track down Frank Addington. Frank is known as The Aspirin Buster and he puts on an archery exhibition that is beyond belief. Learn all about Frank and watch great videos at 
https://www.frankaddingtonjr.com
.
We'd love to have you with us on our trip to Alaska coming up in July. Email